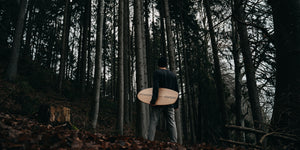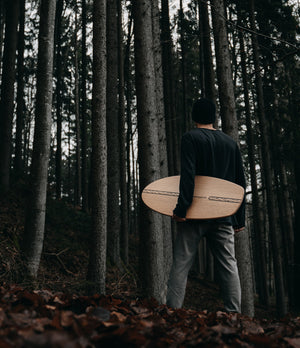 ---
PASSION FOR THE BOARD, DESIGN & HANDCRAFT
ABOUT US &
QUELLBOARD
---
INTERDISCIPLINARY TEAM WITH LOVE FOR NATURE & PASSION FOR BOARDING
We are Quellboard, David - Benjamin - Mika, a young company from Upper Austria, with a mission to combine our passion for board sports, the love for design and the learned handcraft, creating a unique balance board, inspired by the alpine mountain landscape and its board sports, with the highest standards in quality, sustainability, design & performance.
HIGHEST QUALITY
---
SPECIFIC DESIGN
---
LOCAL WOOD
---
LOVE FOR NATURE
---
SUSTAINABILITY AS THE BASE
ALPINE SURFING
---
INSPIRED BY ALPINE "QUELL" FOR BOARD DESIGN & LIFESTYLE
---
SPRING WATER AS THE ORIGIN OF "ALPINE SURFING"
Quell refers to the spring from the Austrian Alps, whose pure spring water forms a stream-like mountain river, turns into calm lake water and finds its way back into the mountains as snow. It symbolizes the origin of all board sports of "Alpine Surfing" and serves as an inspiration for our Quellboard design & sustainable company philosophy.
BETTER ACCESSIBILITY AND VARIETY FOR "ALPINE SURFING"
---
THE FREEDOM OF BOARDING AT HOME
An important part of our Quellboard philosophy is our contribution to creating greater awareness and accessibility for Alpine board sports while generating more quality time on your board on land or in the water, regardless of long distances or changeable weather conditions & seasons.
UNIQUE AUSTRIAN HANDCRAFT WITH THE HIGHEST QUALITY
---
UNIQUE BALANCE BOARDS "HANDMADE IN AUSTRIA"
Each individual Quellboard is carefully handcrafted from local oak wood, refined with specific & stylish details and finished with a special surface treatment, which means that each individual board is an exceptional one-of-a-kind with its own identity & character in terms of materiality, design and craftsmanship.
INNOVATIVE BOARD DESIGN WITH LOVE FOR DETAIL & AESTHETICS
---
MORE THAN JUST A FUNCTIONAL SPORTS TOOL
In every Quellboard there is not only our passion for simple design, the attention to detail and enthusiasm for unique solid wood, but also a long development process to create an innovative balance board that sets new standards in design, performance, form & functionality and stands for a piece of boarding art.
SUSTAINABILITY AS BASE FOR MATERIAL, DESIGN & PRODUCTION
---
DURABILITY THROUGH SUSTAINABLE DESIGN & DIVERSITY OF USE
Sustainability is an important part of our company philosophy and extends from the flexibility & variety of uses of each Quellboard, to the conscious choice of certified and renewable natural materials, such as local wood and Portuguese cork, until the regional production and 100% recyclable packaging material.
CONSCIOUS CHOICE OF MATERIALS FOR BEST PERFORMANCE
---
UNIQUE SOLID WOOD BOARD WITH NATURAL CORK ELEMENTS
The conscious choice of materials in robust solid oak wood and elastic natural cork not only follows our sustainability philosophy and pursuit of the highest quality, but also ensures an incomparable boarding experience & board performance with increased stability & strength, reduced weight, ideal rolling behavior and optimal grip.
A NEW PLANTED TREE FOR EVERY SINGLE QUELLBOARD SOLD
---
BALANCE BOARDING FOR A BIT MORE NATURE
Through our donation initiative, another new tree is planted for every single Quellboard sold, creating an additional piece of nature in order to contribute to a more sustainable future with a intergenerational awareness and mindset for nature & environment.