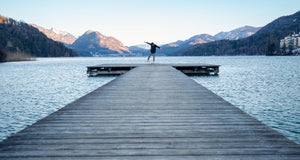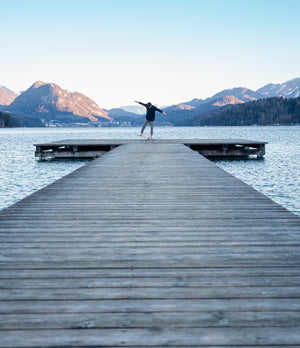 ---
EVERY BOARD IS UNIQUE, HANDCRAFTED IN AUSTRIA
MULTIDIMENSIONAL
5IN1 BALANCE BOARD
---
THE FULL BOARDING SIMULATION & DIVERSITY IN JUST ONE BOARD
Quellboard is a multidimensional balance board that, thanks to its flexible and optimally coordinated board components, combines five different balance board types in just one board, thus enabling you to effectively train your boarding skills, physical and mental strength with the full simulation and variety of movements of the different board sports (surf, wake surf, sup, foil, snowboard, longboard, skateboard, etc.), regardless of location and weather. Take your skills & fitness to the next level.
TOP TO BOTTOM
---
2IN1 ROLLER / SPLIT
Rolling movement from board tail to nose, for optimal body control, improved weight transfer and more trick variety on your board.
RAIL TO RAIL
---
2IN1 ROLLER / COMBINED
Rolling motion from board rail to rail for an authentic surf feeling, enhanced body control and ideal board control for your next session.
WOBBLE MOTION
---
ROCKER
Isolated rectilinear movement , ideal for taking your first steps on your balance board or adding new dimensions to your fitness workout.
CIRCULAR MOTION
---
DOME & GAME
Isolated circular movement, for fundamental & playful balance board training of all ages, skill levels and daily lifestyle.
360° FREE MOTION
---
SPHERE & FRAME
Completely free 360° motion, for a new boarding experience with dynamic moves, ideal coordination training and new challenges.
VERSATILE BOARD WITH INNOVATIVE CLICK & RIDE SYSTEM
---
TAKE IT TO THE NEXT LEVEL & THE NEXT WAVE WITH JUST ONE CLICK
The unique solid wood character and the stylish Board top is complemented by the specially developed Click & Ride mechanism on the Board underside, which allows the different components to be easily and quickly combined with the board with just one click, creating a unique variety of uses and boarding experiences.
COMBINABLE 2IN1 ROLLER FOR THE IDEAL ROLLER LENGTH
---
FULL VARIETY OF TRICKS COMBINED WITH AN AUTHENTIC SURF FEELING
With its unique magnetic mechanism, the Quellboard Roller can be easily adjusted in its length, creating the optimal base for the full trick variety of "Top to Bottom", and the necessary roller dimension for the full motion between the board rails, for the authentic surf feeling of "Rail to Rail".
TEMPORARY STOPPER FOR MORE SAFETY & PERFORMANCE
---
MOVEMENT STOPS FOR EXTRA COURAGE TO TRY NEW TRICKS & MOVES
The Quellboard Stoppers serve as temporary safety stops for your moves and tricks on the board. They can be easily added or removed according to your skill level & demand, to provide the necessary protection for you & your surroundings and to give you the extra courage for more performance, new tricks and maximum fun on your balance board.
FLEXIBLE ROCKERS FOR MORE STABILITY IN TRICKS & EXERCISES
---
MORE PERFORMANCE FOR THE FIRST & NEXT STEPS
The Quellboard Rockers can be temporarily connected to your board by the unique Click & Ride mechanism, to create more stability and the right solid base for an increased learning process during your first steps & moves on your balance board and to achieve ultimate results by developing your fitness exercises further.
AGILE SPHERE WITH FRAME FOR MORE DYNAMICS & MOBILITY
---
360° RANGE OF MOVEMENT FOR A DYNAMIC BOARDING EXPERIENCE
The Quellboard Sphere creates a free 360° range of motion, which ensures a very authentic & dynamic boarding feeling. The detachable Quellboard Frame generates the necessary security & freedom of movement, both for beginners & experienced riders, to push their limits further and develop their skill levels effectively.
DETACHABLE DOME & GAME FOR MORE BOARDING DIVERSITY
---
THE BALANCE BOARD FOR DAILY LIFESTYLE & EVERY AGE GROUP
The Quellboard Dome with Marble Game creates a completely new dimension for the multifunctionality of "Wobble boards" with its removable function, and ensures a playful balance board training for daily lifestyles of all ages, whether at home or in the office, to build up the right foundation for your fitness and balance in your everyday life.
BOARD RACK FOR FLEXIBLE STORAGE & PRESENTATION
---
FLOATING BOARD PRESENTATION FOR YOUR HOME
The Quellboard Board rack, which enables you to hang your board quick and easy on the wall by using the magnetic click mechanism, gives your Quellboard a unique floating character with a new kind of 360° freedom and flexibility in your board presentation, adding a unique feature to your home.
---
CHOOSE YOUR QUELLBOARD
---
Choose one of our thoughtfully combined Quellboard Sets, with steady upgrade options, or simply share a bit of boarding passion with the Quellboard Gift Card, tailored to your budget.