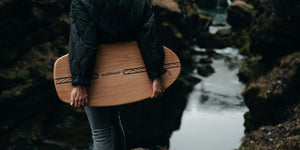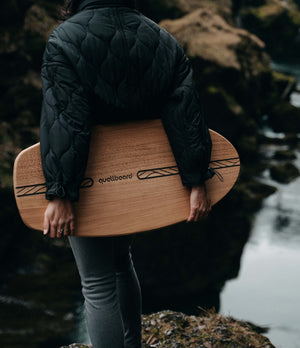 ---
BUILDUP OF PHYSICAL & MENTAL STRENGTH
QUELLBOARD
BALANCE TRAINING
---
FOR MORE BALANCE ON YOUR BOARD AND IN YOUR LIFE
The Quellboard gives you the opportunity to train your boarding skills and style in the best possible way, to effectively take your physical and mental fitness to the next level and to integrate more movement into your different everyday situations. The constant expandability allows for the best possible performance and maximum boarding fun for every skill level, fitness and age group.
BOARD FIT
---
CORE FIT
---
MIND FIT
---
DAILY FIT
---
LIFE FIT
---
EFFECTIVE BALANCE TRAINING FOR YOUR BOARDING SKILLS
---
FOR MORE CONFIDENCE & QUALITY TIME ON YOUR BOARD
With the Quellboard, you can develop your boarding skills and style at any time, regardless of location, weather conditions and season, and effectively take your board control to the next level, for more self-confidence and fun at your next boarding session in the water or on land.
INTENSIVE CORE TRAINING FOR YOUR PHYSICAL FITNESS
---
FULL BODY WORKOUT FOR MORE BODY CONTROL & AWARENESS
With the balance training on your Quellboard, you specifically strengthen your core and deep muscle tissue, sharpen your sense of balance, develop your body control and coordination skills further, reduce your risk of injury and create the basis for a wide variety of sports and a healthy body awareness.
BUILDING UP MENTAL STRENGTH FOR MORE BALANCE IN YOUR LIFE
---
THE RIGHT MINDSET FOR AN ACTIVE LIFESTYLE
In addition to your boarding skills and physical fitness, on your Quellboard you also develop your mental strength further, strengthen your self-confidence and resilience, reduce stress and sharpen your ability for concentration and creativity for the right mindset of an active and self-determined lifestyle on & off the board.
MORE DAY TO DAY MOVEMENT AT HOME, OFFICE & ON THE GO
---
SURF FEELING & BALANCE FOR EVERY DAY TO DAY SITUATION & ACTIVITY
Thanks to the flexibility and diversity of the Quellboard components, you bring more variety and the right amount of exercise to each of your everyday situations and activities, while effectively strengthening your back muscles, physical posture and ability to concentrate, whether at home, in the gym, on the go or at work.
INDIVIDUAL BALANCE TRAINING FOR EVERY FITNESS & SKILL LEVEL
---
THE IDEAL CHALLENGE & VARIETY FOR EVERY RIDER
Whether it's more performance or safety, isolated movements or full freedom of movement, the different board components allow the Quellboard to be adjusted quickly and easily to the individual skill and fitness level of each rider, thus creating the basis for a steep learning curve with constant motivation & challenge.
OPTIMUM VARIETY OF EXERCISES FOR EVERY AGE & MOBILITY LEVEL
---
FROM PLAYFUL BASIC EXERCISES TO CHALLENGING TRICKS
Whether it's important basic exercises, new board tricks or to sustain full-body training, the different difficulty levels of the Quellboard enable not only effective balance building, but also playful learning of important coordination skills for children & adults, as well as targeted exercises for the rehabilitation of injuries.
CONSTANT UPGRADE OPTION IN CHALLENGE & FUNCTIONALITY
---
THE BALANCE BOARD THAT GROWS WITH EVERY RIDER
The flexibility and variety of uses of the Quellboard, which can be easily expanded in terms of functionality and difficulty at your own pace, creates a unique and durable product that ensures intergenerational balance boarding and constant variety with the right challenge for every rider.